The North Star
---

Experience the Luxury of Travel By Private Car

1947 Pullman Sleeper-Lounge-Observation Business Car Guest capacity: 6 night, 12 day
---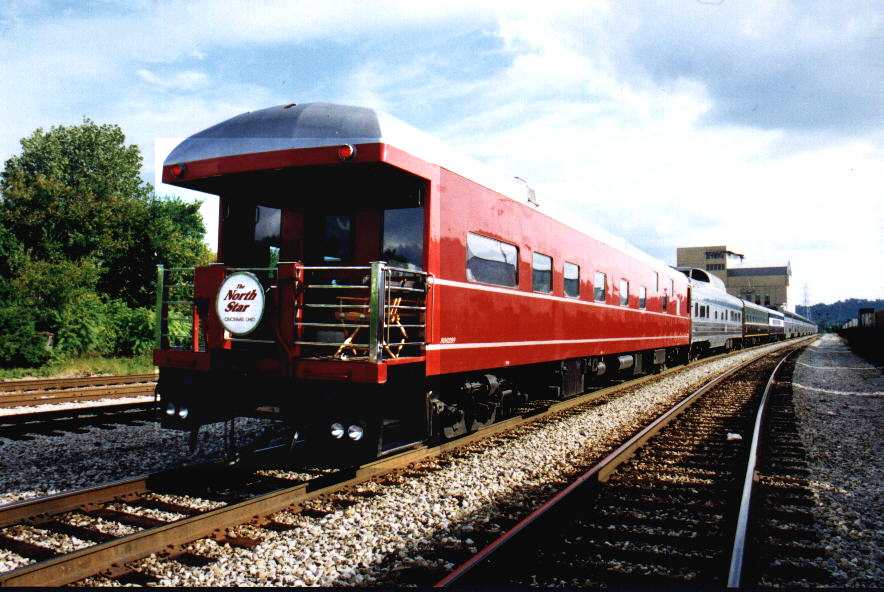 "You get a real feeling of this country and the people in it when you are on a train."
President Harry Truman
Traveling aboard a private rail car was once reserved for railroad presidents, movie stars and politicians. Today, it is a unique and graciously elegant way to see the beauty of America up close. While enjoying fine dining and comfortable surroundings, travel through the Rockies, not six miles above. Wind through the deep canyon of West Virginia's New River Gorge enroute to a few days at the famous Greenbrier Resort at White Sulphur Springs. Or race along the banks of the Hudson River following the footsteps of the 20th Century Limited.

No matter which itinerary, no matter which destination, private car travel is an experience. It's a cruise across America; through small towns in the middle of the night, snow-covered mountain passes, desolate desert landscapes and lush midwestern fields of grain. It's Chicago and Washington Union Stations, and Maysville, Kentucky. It's Glacier National Park, Pudget Sound and skirting the edge of the Pacific coast in California.

Wonderful scenery and the romance of rail travel are yours, combined with attentive service and deluxe dining. You'll travel with a master chef and steward who ensure your comfort throughout the trip. Menus are custom tailored to your desires, with fine dining prepared fresh onboard in the stainless steel galley.


Experience the Luxury. Experience the Scenery.
Experience a Journey Aboard The North Star.

---

North Star Charters, Inc. l 1340 Custer Avenue l Cincinnati, OH 45208
513-236-1891 email: ddawson@iglou.com

The North Star is based at historic St. Louis Union Station.

For more information or for a quote on a specific itinerary please write, call or email: David Dawson, General Manager.
---
Best viewed with

Site Last Updated: December 2006